Africa Sexxx was a popular SCORE and V-mag Girl. Slim and stacked at 32G, and a very personable girl, Africa is a highly talented model. She's been off the grid for years. Her last visit was in 2007.

"When I became Africa, it was kind of a political thing," Africa said in her earliest interview. "I was feeling like people didn't know that black women were attractive. They don't look at us that way. They take the worst-case scenario and let that represent all of us. But, at the same time, I was also thinking that white men really do fantasize about black women. That's when I started stripping. I had a job as a receptionist for a year right after high school before I started dancing in clubs. As far as stripping in bars, I don't like it. Stripping at private parties and bachelor parties where they've called me and that's why I'm there, I love doing those."

Africa also told us how a guy should touch her tits.

"He should be very firm with his hands and his mouth, but not pinch the nipples. And I like a guy to take as much of my chi-chis in his hands as he can and squeeze them."

That was then.

Moving to the present day, a surprise email from Africa arrived. It was nice to be remembered. And she wanted to shoot again. There was also a huge change. Specifically in the bra department. Africa now measures an astounding 40M. The pictures she sent floored us, and once we picked ourselves off the floor, we invited her to see us. Now, very big hands are needed to take those chi-chis in hand.

In this scene, princess of pulchritude Africa talks to Jose, one of her previous photographers at SCORELAND, who has the honor of photographing her again. After their chat, Donnie Rock gets the royal treatment from Africa. She sucks and tit-mashes his cock, quickly making him as hard as his last name.

Donnie gives Africa the proper hard but firm fucking she's entitled to. His cock locked inside Africa's massive cleavage, Donnie squirts but it's hidden until Africa separates her boobs to show the sperm sample he's left between her tits.

Originally, before she even applied to SCORELAND, Africa did mostly amateur-style solo videos. She explained why at the time.

"Because a lot of people don't want to see me with guys. They've explained to me that they like to see themselves with me in their minds and if there's a guy in the picture, it ruins the fantasy for them. You know, when I think about doing a hardcore boy-girl video, I think to myself, 'What are you doing having sex on-camera?' It's so strange doing something so personal and private in front of a camera for all these people to watch. But once the camera starts rolling, I really get into it. Sometimes I forget the camera's even there."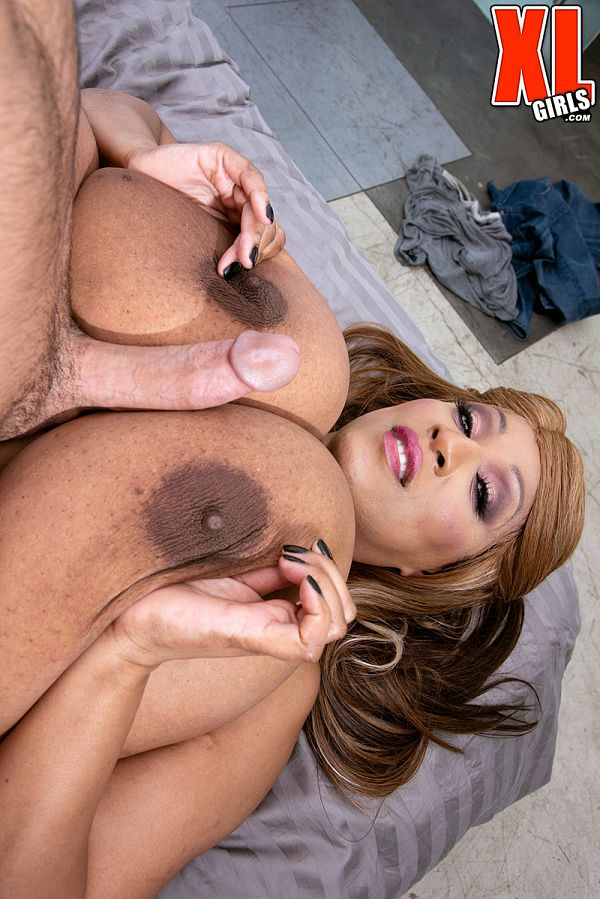 See More of Africa Sexxx at XLGIRLS.COM!