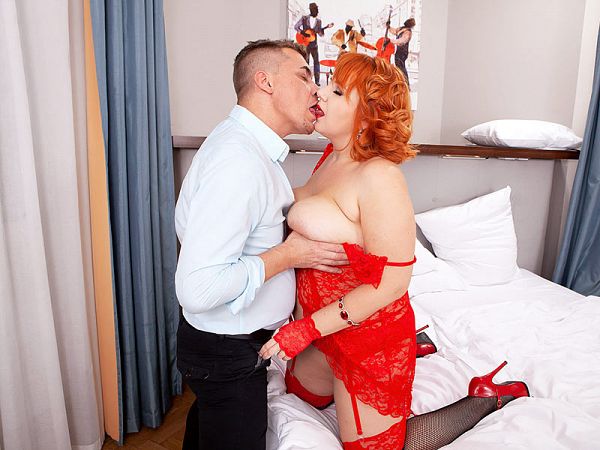 Katrin Porto is dressed in sexy red lingerie, red heels and fingerless gloves. The curvy redhead gets into bed and plays with her big tits and pussy slowly and erotically.

A hand pulls aside the sheer curtain of the canopy bed to get a clear look at pretty Katrin as she masturbates. She sees Steve reach out for her breasts to caress them. Katrin gets up and leans forward to take his dick in her mouth so she can suck and lick it like a lollipop. She then crooks her finger and lies back. She wants his tongue to lick and suck her pussy, and she plays with her tits as he eats her out. His cunning lingus drives her wild. She spreads her pussy open for more, pulling him closer by the back of his shirt. After tongue-fucking her, he sinks his cock into her and thrusts.

Katrin can't get enough of his shaft in her mouth and deep in her pussy. She alternates while exploring different fucking positions. She is very much a passionate woman-next-door and nothing like a mechanical porn star.

Katrin can get as much sex as she wants but she also enjoys masturbating.

"I masturbate very often. I love to do it during sex and also when I am alone in the bedroom. For example, it may take place while my husband takes a shower or when we are in a quarrel. Usually I like to watch porn on my smartphone while doing this. In fact, porn videos turn me on every time I see them."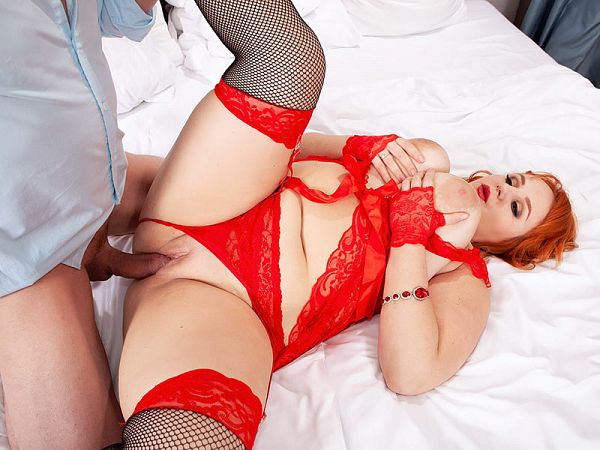 See More of Katrin Porto at XLGIRLS.COM!