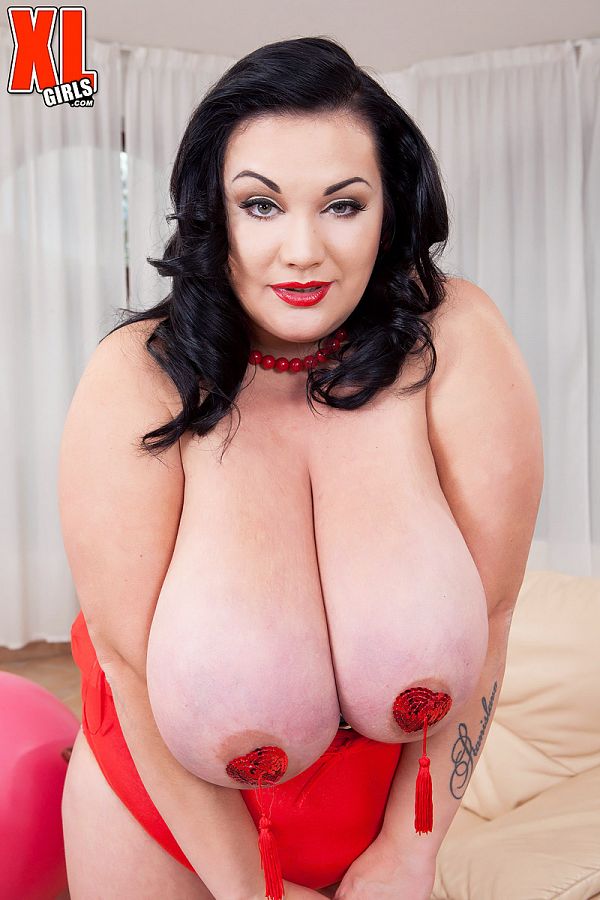 It's workout day for Nila Mason, and a very special workout it is. Nila has a large gym ball, but this one has a unique feature. There's a dick-shaped prong sticking out of it. It was invented by thoughtful fitness scientists mindful of female pleasure-seekers.

Nila enters the room in a tight, red one-piece. She's sensuously sucking on a lollipop and she does it slow and easy. Nila (pronounced Nee-la) knows the enjoyment her tongue brings. Taking off her one-piece, she reveals that she has stuck red tassels with fringes on her nipples. A Valentine's Day gift?

Nila bounces her boobs and the tassels fly. In the video, there's slow motion of the boob bouncing. Nila rubs her huge tits and shaved pussy, then lowers herself on the dildo protruding from the workout ball. She bounces, and each bounce amplifies her pleasure. This was a new experience for her, and she enjoys knowing that her followers will be watching her every move.
See More of Nila Mason at XLGIRLS.COM!