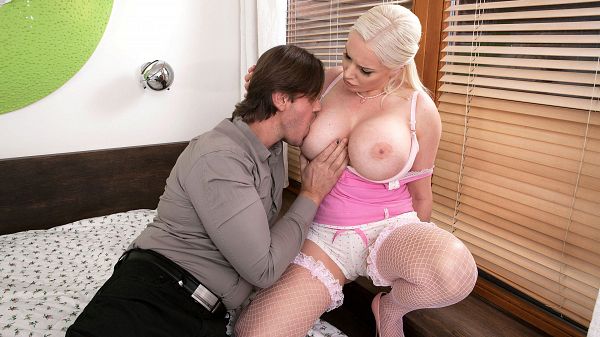 Russian sex is a slang term for tit-fucking. Word scholars don't know its origin but Russian bra-buster Jordan Pryce loves doing it.

"Moisturizer for my boobs," said Jordan, fingering the spunk Tom has deposited on her big Russian tits after they have a noisy, fast-paced fuck. She lifts her tits up to lick them.

Additional highlights in this video:

Jordan getting face-fucked while she's kneeling over him, her naked tits dangling over him.

Tom standing as Jordan kneels and sucks him off hands-free after he fucks her tits.

Jordan patting her clit while she's in a reverse-cowgirl and leaning back.

"I like boob fucking," Jordan said. "I like when a man sticks his cock between my boobs. I like when he sucks my nipples while he's fucking me. I also like when he is fucking my boobs and I can suck his cock, too. I love making love to the cock. Some girls just suck the cock like it is a chore. I caress it with my mouth, and I always pay a lot of attention to the balls. I like to get them in my mouth and get them nice and wet. I like to make a man's cock all sticky with my saliva and then let it drip onto my big tits. They always gets the man excited. Sometimes men cum in my mouth before they have had the chance to fuck my pussy. But that's okay. Then they can eat my pussy and I will cum anyway."

Jordan is boob-centric. She's devoted to her tits. "They're sensitive, especially my nipples. I can give myself pleasure every time by playing with my nipples and rubbing my pussy, sometimes just by rubbing my nipples. Sometimes I will be out in public and I will find myself touching my nipples. People will be staring, and I will be like, 'Ooops!'"
See More of Jordan Pryce at SCORELAND.COM!