"I have had a crush on my college professor for the entire semester," says perverted pixie, Genie Onyx. "It's all I could do to keep my hands from roaming downward and playing with my pussy while he lectured the class. I tried and tried to get his attention after school, but he always avoided me. So, I decided that the only way I was going to get him was to seduce him. I wore revealing outfits and tried to figure out what he liked. Within a few days, he was mine.

"I started my visual assaults on my professor by wearing low-cut tops to class, but he didn't even look at me once. Then I wore tight pants that showed off my ass, but he didn't flinch. Then I noticed that the day I wore a pair of skimpy, short shorts, he couldn't keep his eyes off of my legs. That's when I knew what he was into. I spent the entire class opening and closing my thighs slowly and rubbing my legs. Then I let my sandals slide to the floor and I grabbed one of my feet and smiled at him. I thought he was going to cum when I started massaging my feet! He stuttered through the rest of his lecture and dismissed us early. That's when I knew he was mine to toy with.

"Once I knew he was a leg man, I decided to play out the ultimate hot-for-teacher and naughty schoolgirl fantasy. I got all dolled up and waited for him on his desk in my slutty outfit right before his morning office hours. When he saw my legs akimbo and my pussy through my sheer panties, he couldn't resist. He got down on his knees and licked my shoes. I told him that I wanted him to lick my soles and suck my toes. The horny gleam in his eyes told me that we were going to have a very kinky time."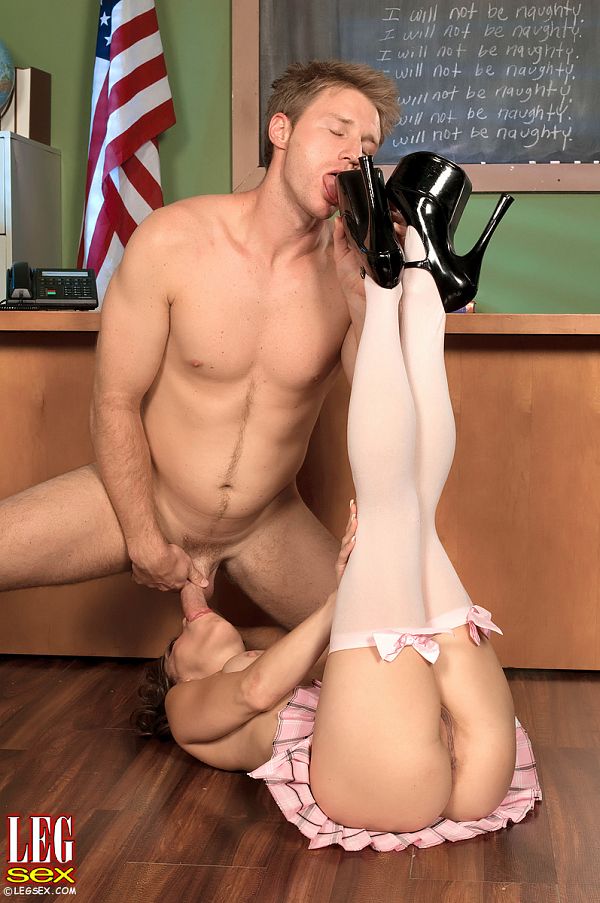 See More of Genie Onyx at LEGSEX.COM!