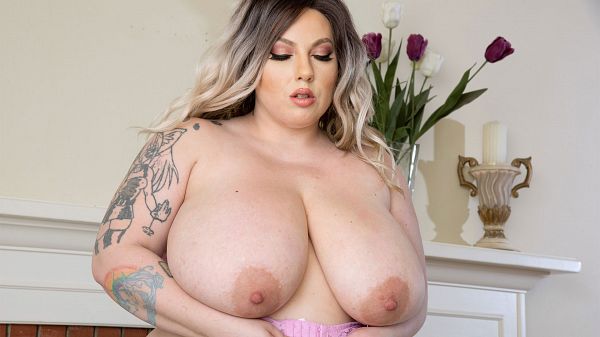 Everyone at XL Girls was blown away by the size and shape of Amy Villainous' tits as well as her beautiful face. We contacted Amy a few years ago but she wasn't ready. So we waited patiently while our hurt feelings healed. Then we tried again.

"I buy any style of bra that will fit," said Amy who does a bra try-on show in this uplifting scene. She wore a bikini at poolside in another scene. Amy usually buys a 38J-cup bra. "Most American brands don't make my size unless I buy online, and that is risky if I can't try it on first!"

Amy likes to get fucked in places besides her home or her partners' homes. "I like to have sex at house parties, parks, and at Goth clubs. I've fucked in a dressing room and against a wall in an alleyway. I'm definitely turned on by the risk of doing things in public."

Amy had anal sex for the first time in ten years in a match-up with Johnny Goodluck. She said she has a two-man threesome on her bucket list. "I've been in several threesomes with another girl and a guy, mostly as a third. I've always had amazing experiences and I love putting the focus on the lady before teaming up with her to tease the hell out of the guy."
See More of Amy Villainous at XLGIRLS.COM!