Pleasure Mia's favorite movie is One On One, which is perfect because she's about to go one on one with our boy John Strange. And that's not even the best part. Pleasure Mia told us she had never fucked a white guy before. John couldn't possibly be any luckier in getting to be the one who checks that off of Pleasure's fuck-it list.

"I like all type of guys," Pleasure told us. "Black, Hispanic, whatever. It's just never happened. I'm really excited about it, though."

Oh yeah, Pleasure is very eager to hop on this vanilla magic stick. She strips her clothes off first, so she's unencumbered, but doesn't even bother with pulling John's pants down. That's a waste of time and energy that could be used for sucking him off. Pleasure simply unzips his fly, and pulls his already-hard cock out through the hole and sucks him.

"I'm an aggressive chick," Pleasure told us. "I've heard that since I was younger. I see what I want, and I go get it. I'm the same when it comes to sex. I dominate whether it's a man or a woman."

When a chick like Pleasure takes control, you just sit back and take it. And that's what John's doing. She shoves him onto the bed to ride his cock cowgirl and reverse cowgirl, and then lays down and demands he beast on her pussy missionary before flipping over so he can fuck her doggy. When he's done, he shoots a hot load all over her juicy chocolate ass.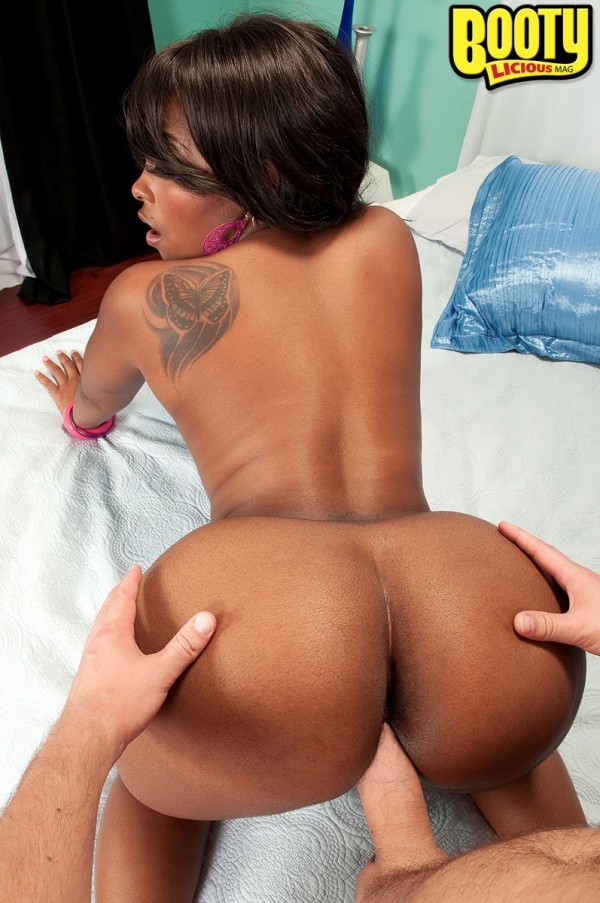 See More of Pleasure Mia at BOOTYLICIOUSMAG.COM!