Stacked SCORE Girl Stephanie Stalls and her lawyer are meeting to discuss her impending court appearance about her divorce settlement. But there's a problem. She's been cheating and her ex-husband has had her followed by private eyes.

Stephanie's lawyer has been given a packet of surveillance photos by her ex's lawyer to show them that their case is about to go into the dumpster. Even Stephanie's low-cut top doesn't interest her lawyer right now.

"There's no way the jury is going to believe you now so you can cut the act!" he tells his bosom-rich client. "That asshole!" replies Stephanie, enraged. "He had someone follow me? I should have known. You know he's cheated on me a million times. What the hell was I supposed to do? Now he's got photos of me walking into a hotel with one guy and...." "One guy?" interrupts the lawyer. "One guy? We've got five different men here. One after another and who knows how many others."

Stephanie gets even angrier. "Okay, okay! I get the point. So what? Am I not getting anything on this settlement? Can't you tell them I'm a small town girl and he took advantage of me?" "Small town girl?" the lawyer huffs.

"Yeah! Just tell them I have a problem. I'm a nymphomaniac and I have an addiction." Sounds believable but the lawyer is not in an accepting mood. However, Stephanie is persistent. "If I don't convince you, you can't convince them!" she tells him, grabbing his briefs and overruling him. "I love sucking cock. I'm a fucking addict. I'm sex crazy and I need it all the time. I'm a fuckin' nympho. I want your cock. Oh yeah, I want this. I want your cock in my pussy. Right now. And you're gonna give it to me." The lawyer takes a deep breath and stops resisting. He lets her approach his hardening bench. "Convince me," he demands.

"I can definitely do that," Stephanie says, pulling his stiffie out of his pants. She drops to her knees and begins slobbering over his wood. They adjourn to the couch so Stephanie can throat his pro boner on top of him. Justice must be served big, hot tits and a tight pussy. We hope she won her case. There are eight million stories in the naked city.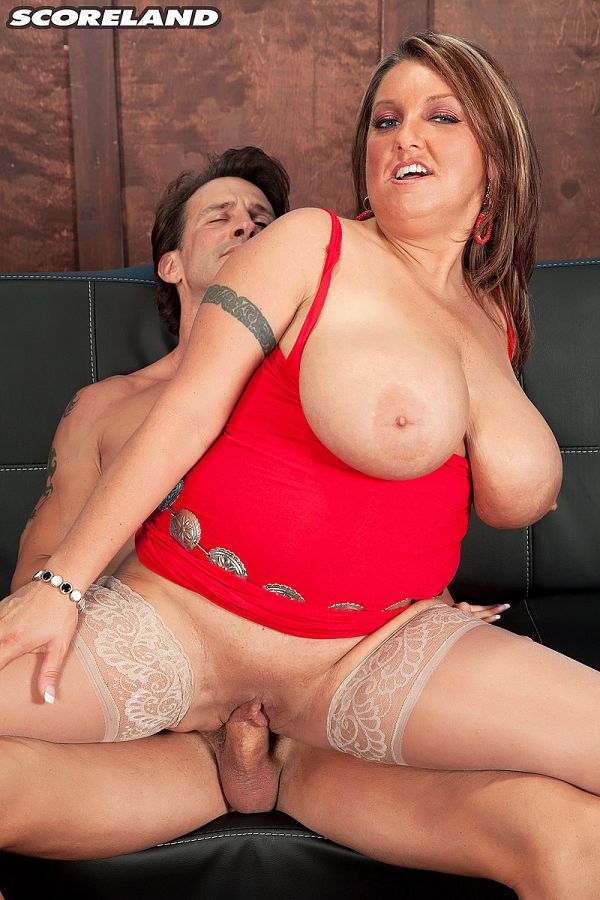 See More of Stephanie Stalls at SCORELAND.COM!