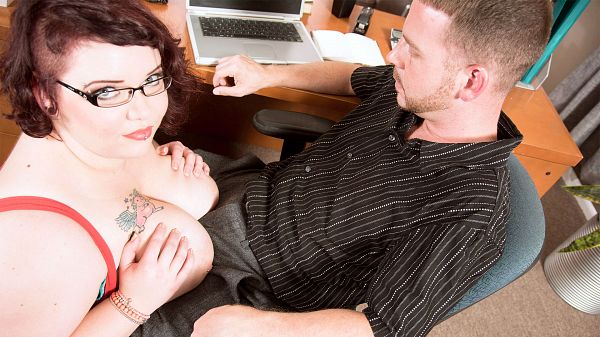 Those high-powered executives and politicians and their high-powered workloads? It's all bullshit. The only workload they really think all day long about is the load they're going to shoot on their sexy assistants and interns. Take this guy, for example. He's trying to seal a deal but he's distracted by cute Kitty, his head of personnel.

She's going to show him why she's head of personnel by giving him head while he's on long distance. His business talk shuts down quickly so he can get down to real business and fuck her on his executive couch and she can jerk him off all over her big tits. This is how it works in the real world of the wheelers and dealers.

"I'm single," says cam-girl and ukulele player Kitty McPherson from groovy Portland. "But if I had a guy, I'd give him blow jobs all the time and cook him breakfast. He would fuck me rough and sweet the way I like it and cook me dinner.

"The best compliment I've ever received was during the first time I ever shot with The SCORE Group and I was sucking some mad cock and I looked up at the camera and the camera guy gave me a thumbs up. Hands down, the best feeling in the world.

"The worst compliments are along the lines of 'I love a woman with meat on her bones; no one wants to fuck a twig; real women have curves.' When someone says that, they're objectifying all women and they're not making me feel good, which is what a real compliment is supposed to do. I won't say 'thank you' to that. I love my body and myself and that's all that matters to me."

When it comes to meeting guys at parties or wherever, Kitty says she's "super-introverted, and I don't even go to parties. But I'd probably ask a friend to go up to a guy I find attractive and tell him to come over and talk to me."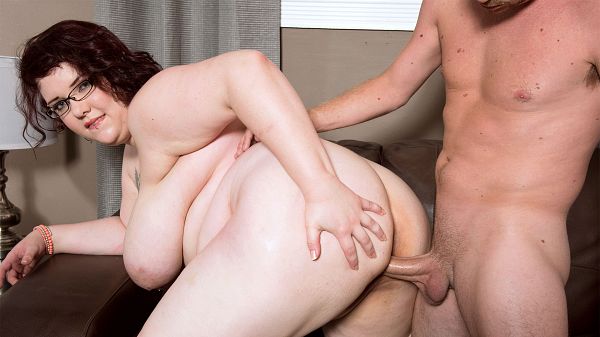 See More of Kitty McPherson at XLGIRLS.COM!