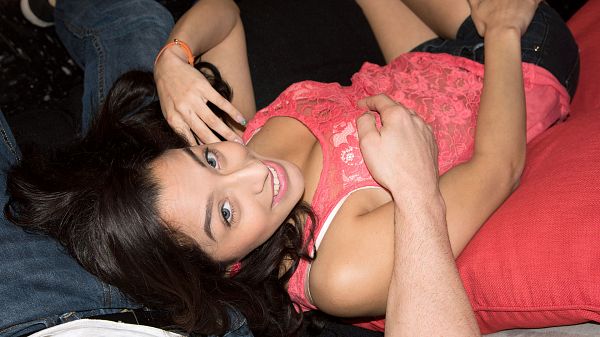 Have you guys noticed the trend of good girls getting tattoos lately? Bad girls have always had them, but now it seems like every girl, even the innocent ones, are getting inked. Sometimes their tats are pretty fuckin' dumb. Nikki's got some nice ones, but they're hidden, just like her urge to fuck on-camera. But when her clothes come off and you see her tattoos and her perky little tits, you know there's a wild side that she lets loose every once in a while.

"I present myself as a really proper woman, but I'm the horniest person ever," 19-year-old Nikki told us. When girls tell us things like that, we ask for proof. "Well, I can give a great, enthusiastic blowjob!"

Sorry, Nikki. That's not going to cut it. Tell us a story.

"I love being a voyeur. Once, when I was an assistant to a doctor, he was having a hard day and I offered to help him feel better. When I brought him lunch, he grabbed my hair, bent me over the nurse's desk and dominated me. I went into the back office after that and stole the security tape so I could watch it over and over again at home when I masturbated. He didn't know that I took it."

Okay. That's pretty horny.
See More of Nikki Ortiz at NAUGHTYMAG.COM!