Envy is a fitting surname for Aaliyah. Because even though this chick lives in Los Angeles, a city known for its bad bitches, we know there are a lot of chicks jealous of her. Just give her one quick glance and you'll see what we're saying. This chick has creamy chocolate skin, a thin waist, curves that won't quit and an ass our boy Shaggy can't wait to hit. Aaliyah's got an ass so nice it sweeps a dude off his feet. That's an A-list booty, and Aaliyah demands that type of fucking.

"I'm a freak," she said, laughing. "I'm not ashamed to say it. I'm the assertive type, too, so you have to be ready to handle a girl like me. I need a man that knows how to use his hands and knows how to touch me."

No problem there. Shaggy's never seen an ass he couldn't handle or a pussy he wouldn't feast on. He peels her dress off and has Aaliyah plant her dripping-wet pussy on his face. We don't know how Shaggy's breathing with his face buried under a soggy pussy and phat chocolate ass, but we're sure this dude isn't worried about his next breath, anyway. Eventually, Aaliyah does grant him a breather, her pussy tingling from his ravenous pussy-eating, she returns the favor by deep-throating his cock.

She lustily works his cock and begs for Shaggy to fuck her. Aaliyah said she needs a man who can handle her, and Shaggy has already given her everything she can take. And that was just the appetizer. Shaggy's throbbing, hard cock is ready to beast on her wet cunt and phat ass.

Aaliyah hops on top and rides him cowgirl before flipping over and letting Shaggy hit it doggystyle. She lies down and Shaggy fucks her from the side before she hops up on top again to ride him reverse cowgirl. We've seen some hot fucks here at BootyLicious, but these two are putting on one of our greatest fuck shows ever. And with a girl this sexy and thick, there can only be one climax: a hot torrent of jizz all over her phat ass.

This doesn't happen often, but we've got to say we're feeling a bit jealous of our boy Shaggy. You could say we have 'Fuck Envy.'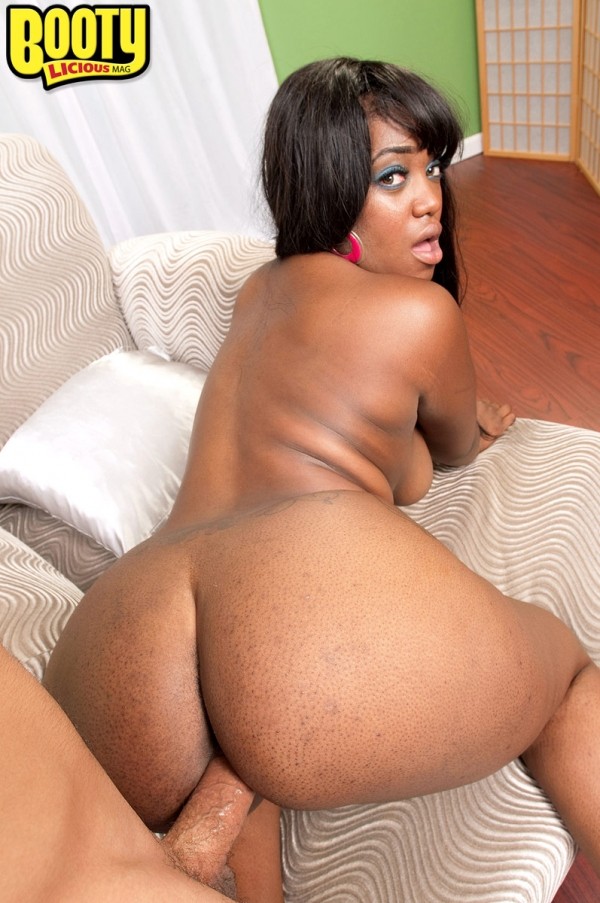 See More of Aaliyah Envy at BOOTYLICIOUSMAG.COM!