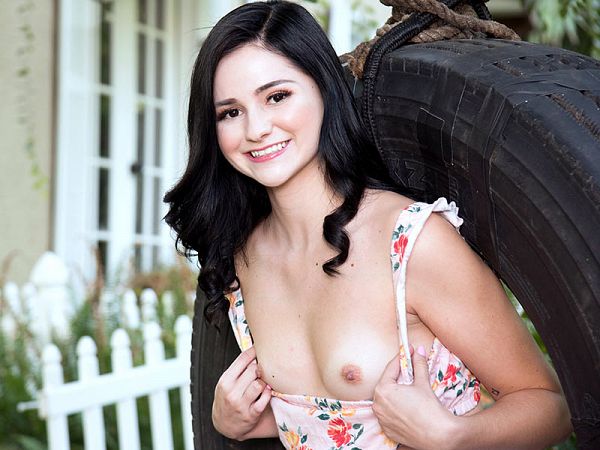 Occupation: Student; Age: 19; Born: July 2; Ht: 5'6"; Wt: 121 pounds; Bras: 32B; Panties: Usually thongs; Anal: Nope; BJs: Swallow; Masturbate: Sometimes.

Violet is a newcomer with an innocent look that'll be right up your alley if you're into young, doe-eyed sweeties. But don't let her looks fool you, she's had some experiences. "I started off slowly," Violet told us, referring to her sex life. "I lost my virginity to my friend's older brother in high school. After that, it was off to the races.

"I had my first threesome somewhat recently. It was a wild experience. It was two guys and me. It started out with a makeout session, and I was taking turns on each guy. Then they took off my shirt and pants and one of them started eating me out while I sucked the other's dick. Then it turned into them Eiffel Towering me.

"When I masturbate, I always use a vibrator on my clit. Penetration feels amazing, but it's hard to cum just from fucking myself. I always have to have my clit stimulated, otherwise I'll just be lying there frustrated forever."
See More of Violet Rain at NAUGHTYMAG.COM!