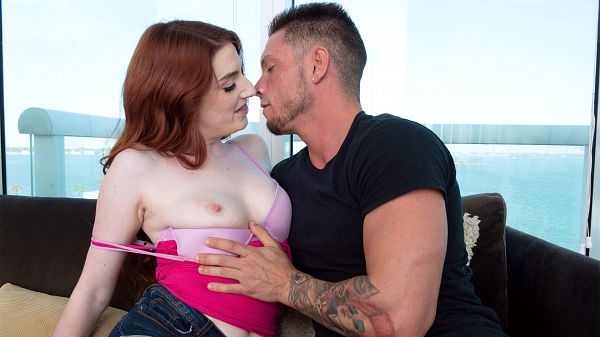 Occupation: Hardware store salesgirl; Lives: San Francisco, California; Age: 21; Born: November 3; Ht: 5'4"; Wt: 120 pounds; Bras: 32C; Panties: Thongs; Anal: No thanks; BJs: Swallow; Masturbate: Yes.

Meet Aria, the redheaded, blue-eyed sexpot from the Bay Area. Originally from Washington state, she's a big Seattle Seahawks fan. She played volleyball in high school. Currently enrolled in college, Aria is studying psychology and told us that she loves helping people. She's certainly helping our stud get his load out in her XXX debut.

"I've read your magazine before," Aria told us. "And one thing that struck me is that most of the girls say that their best sex trait is that they can deepthroat. That's sad! I can deepthroat unless the guy is really big, but my best sex trait is that I communicate well. I instruct guys if they don't please me the right way. It leads to some amazing fuck sessions.

"My favorite position is missionary. I like that I can look at the guy as he's entering me. I also enjoy having my tits squeezed and played with, so that's on the table. Also, if a guy alternates between pinching and sucking on my nips and rubbing my clit, I'll cum buckets. Learning how to master the clit is a lesson they should teach boys in school. It's so important."
See More of Aria Carson at NAUGHTYMAG.COM!