It's been touted that looking at big tits lowers the male IQ by a considerable number of points. Annabelle Rogers is here to provide the scientific proof of that.

Annabelle does the titty dance in and out of her bra and tight blue dress. She can easily suck and kiss her own nipples. Her bouncing and clapping make you dizzy. As this blonde bombshell makes these magnificent moves, some of them recorded in slow motion, Annabelle's sweet, sexy voice seduces you.

Annabelle is a multi-faceted woman. She can get sweet and girl-next-door, she can be dominant with a female and she can be submissive with her man.

"I really like public humiliation. That's one thing I really enjoy. I honestly have so many fetishes. I feel like every month, I'm into something different or watching a different type of porn, but I really like dirty talk. I like rough stuff. Dirty talk mostly. Vulgar dirty talk. From both me and my partner. I'm dominant and submissive, but I like being submissive with a guy. I like being humiliated a little bit."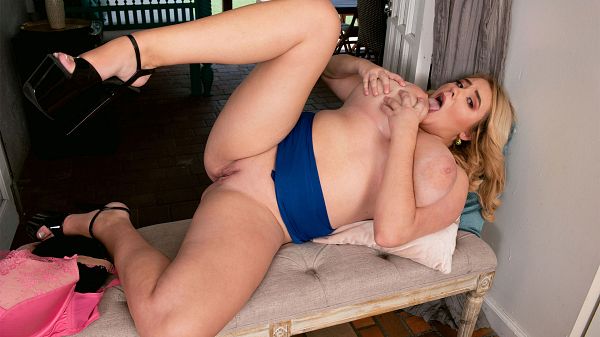 See More of Annabelle Rogers at XLGIRLS.COM!